Pneumatic Wheels with Plastic Centre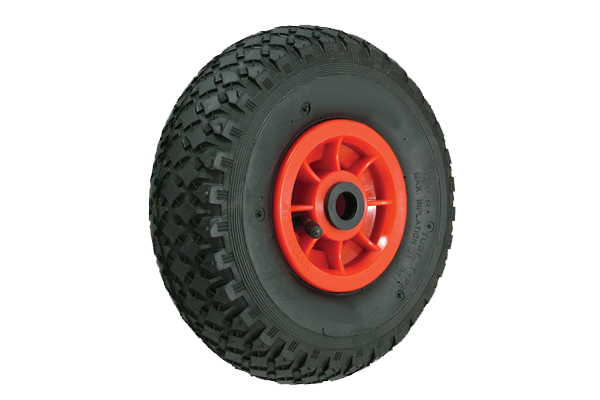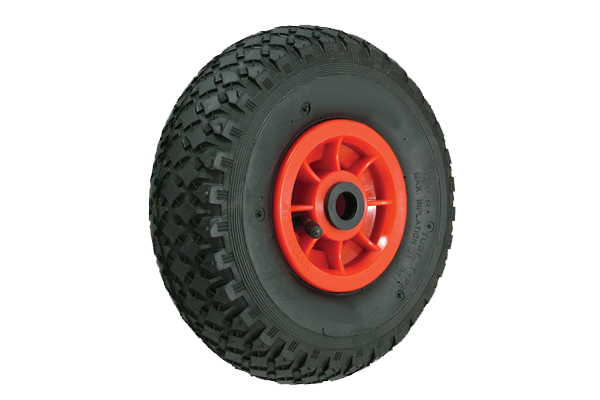 Call us on 01634 686504
We can customise this product with a wide selection of bearings to suit individual applications. Call now for assistance or scroll down for more information.
Product Information
Our Pneumatic Wheels with Plastic Centre are a great multi-purpose wheel offering a reliable rolling surface at a low cost. Pneumatic Tyres offer high levels of grip and superior shock absorption. Pneumatic Wheels with Plastic Centre are available in diameters ranging from 260.00mm to 300.00mm.
This standard range have Plain or Roller Bearings with many other options available. The larger rolling diameters of our Pneumatic Wheels with Plastic Centre means that equipment can be moved over un-even surfaces and over lips/recesses in doorways. Suitable for indoor or outdoor use, this versatile style of Plastic Wheel is extremely popular.
Our Pneumatic Wheels with Plastic (Polypropylene) Centres are stocked in the UK, available for same-day-despatch. Please contact the office on 01634 686504 for more details or browse our selection above.
*Please note that the bore diameter has a tolerance of +/-0.25mm, ensure your axle bar is suitable before placing your order.
Product Uses
Commonly used for Sports Equipment, Flat Bed Trucks, Fruit Picking Trolleys, Outdoor Equipment and many, many other applications - this is a highly versatile range. If you are in any doubt as to how suitable our wheels will be for your requirements, call out Technical Sales Team now on 01634 686504.
Benefits of using Pneumatic Wheels with Plastic Centre
Pneumatic Tyre for shock absorption
Suitable for outdoor use
Polypropylene Rims with choice of Bearing
Durable Rubber Tyre with Diamond Pattern
Sinclair & Rush offers
Low minimum order quantities on all Wheels
Sale-or-return option - please call for details
Great discounts for larger orders
Free technical advice from our UK based experts
Free carriage to UK Mainland for online orders
Sinclair_rush
Next up in our '60 seconds with' series, meet Joey from our Sales Team!
14 March 2019
We pride ourselves in offering a personalised service to our customers. When you purchase from us, you'll get a per… https://t.co/ekImq1Fp2u
13 March 2019
A fantastic testimonial for Ryan in our Sales Team from one of our customers. Why not give our Sales Team on 01634… https://t.co/0udFlDuciR
12 March 2019
Thanks to everyone who took a guess the other day, the correct answer is our 'VisiPak' Clear Packaging Tubes! Call… https://t.co/g6ESDeZJTz
11 March 2019