Go Back
An extremely reliable and self-sufficient process in which heated plastic/rubber granules are driven into metal chambers at high pressure, where they fill the cavity and retain the form once cooled. A more accurate and controllable process, modern injection moulding machines are full of technology to re-create perfect results over and over again. Whilst initial tooling set-up is more expensive, much greater precision is possible.
As a Global organisation, Sinclair & Rush capitalise on the skill and efficiency of our Engineers based in the Far East to deliver accurate, cost-effective tooling. Designed to run on our fleet of German Boy and Arburg Machines with European Specification, up-front costs can often be halved. Our experienced designers use sophisticated 'Pro-Engineer' software to aid in the tool fabrication process.
Our capabilities range from highly efficient 35 Ton Presses for lightweight components all the way through to 450 Ton machines for much larger mouldings or for tooling with high numbers of impressions. We can advise on the most effective way to run your parts depending on anticipated demand and project life.
We are able to meet high demands and stock-hold to cushion lead-times where necessary. Our range of LDPE, Nylon and PP injection moulded products is huge, but if what you require is something bespoke, we employ a full-time Project Manager to assist at every step of the process.
Our plan is to continue investing in the newest, most efficient equipment so that we can pass these benefits on to our customers.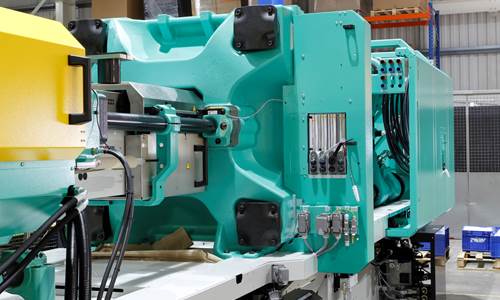 Benefits of Injection Moulding
• Efficient High-Capacity Process
• Accurate and Reliable
• High Quality Finish
• Fast turn-around for Production of Goods
• Expedited projects available (*from sketch to landed product in under 6 weeks)
Standard Materials used include LDPE, Polypropylene, Nylon, TPE and FPV. Call one of our Technical Sales Advisors on 01634 686504 now to start your project today.