Go Back
The process of pushing heated material through a die to create a continuous profile, such as a tube. Using a combination of central pins and vacuum chambers, a multitude of shapes can be achieved. Once cooled, this profile is then cut to specified lengths on the line. We introduced this method to our UK Factory in 2016 to meet the needs of our European customers, producing products locally that had previously been imported from the USA. 
Extrusion is an extremely economical, efficient manufacturing option producing minimal material waste. Products can be made very quickly and high-volume demands met. Our standard range includes the most popular diameters and tube lengths required by industrial and retail markets. Length can be adjusted simply during production and our Engineers can adjust the equipment to produce different wall thicknesses to suit the application. Where a new size or shape of profile is necessary, we can provide full project management and the tooling will be produced within the group to reduce cost and keep us in full control.
Sinclair & Rush have grown to become the largest producer of Clear PETG tubes in the USA which offers un-paralleled clarity when displaying products in a retail environment. Our Perma-sealing process creates sealed containers which can then be coupled with a wide range of closures including hangers. Many new POS displays in Europe are now utilising this innovative method of packaging.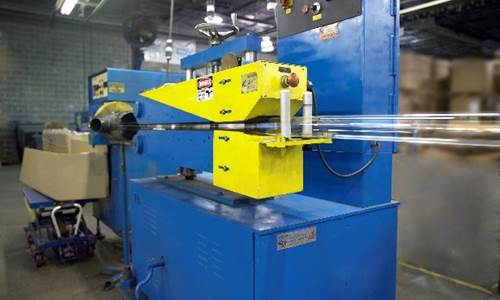 To complement this range of Clear Packaging Tubes, Sinclair & Rush are a large producer foam Closed Cell Foam Sleeves, often used as handle grips and for product protection. Using a further process of grinding, these foam sleeves can be manipulated into a wide range of shapes and styles. Our own Durablend™ material has excellent ozone and oxidation resistant qualities, while our UV-NPVC™ is weather resistant. Flexible and Rigid versions of PVC complete the range available using this efficient process.

Benefits of Extrusion
• Highly efficient process
• Economical for high-volume runs
• Minimal waste material
• Low cost tooling
• Vast applications
Standard Materials include PETG, RPVC, NPVC and UPVC