Go Back
A process in which heated mandrels are dipped into liquid plastisol, before the coating is cured and then stripped from the metal formers. Our fleet of machinery in the UK ranges from small single dip batching rigs for low volume work and rapid prototyping to high volume machines with long-dip capabilities. 
PVC Dip Moulded products offer both flexibility and durability along with low set-up costs, making them an excellent choice for 1000's of applications. Whether you need a cost-effective masking solution, or an attractive finishing item, our vast range of standard parts could be a great place to start.
As the world's largest manufacturer of Vinyl Dip Mouldings with over 65 years' experience, Sinclair & Rush have the expertise to deliver custom solutions quickly and effectively. In-house design and machining of sample tools allow for complete control of the development process.
Our in-house Secondary Department means that we can customise finished product quickly, allowing us to offer;
• Printing
• Double Trimming (to make parts open ended)
• Punching
• Bagging (bespoke pack sizes)
• Custom Packaging (individual requirements)
We continue to be at the cutting edge of this method, introducing new techniques including double and triple dipping. Our team of specialists have invented numerous new materials including Tuffoam®, Softex®, Vynaprene® and Polysuede®. Looking forwards, we will continue to develop new materials and machinery with the aim of further improving quality control and reducing manufacturing tolerances.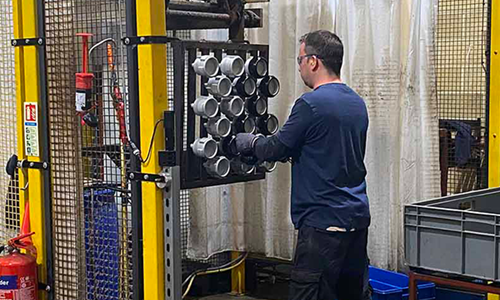 Benefits of Dip Moulding
• Flexible, durable products
• Attractive, traditional finish
• Low tooling costs...typically a fraction of injection moulding
• Quick and inexpensive prototypes
• Short lead-times on custom tooling
• Innovative materials and textures with vibrant colours
• Option for phthalate free PVC