The Cherry Tree - VisiPak
The Cherry Tree is a family-run fine food producer, based in the West Country. Since 1997 they have been dedicated to producing the highest quality Pickles, Chutneys and Preserves for customers to indulge in and enjoy.
They approached Sinclair & Rush in February 2017 with a view to using our VisiPak product to display their multi-pack jar product. Their requirements meant that they wanted to offer a small multi-pack (4 Jars) and larger multi-pack options (8 Jars). Working alongside our VisiPak team, multiple products were tried and tested to ensure that they were purchasing the best option they could for their product. 
Another requirement was that the closure was flat to the top of the tube so their personal branding strip could be placed over to seamlessly finish the product, giving it a corporate, yet appealing look.
Our VisiPak line boasts multiple advantages such as being a cost effective, premium product; being highly customisable so it can be adapted to fit bespoke requirements and being manufactured in the UK means the delivery/carriage costs are low.
More importantly, Sinclair & Rush have recently invested in a Pelletizer line which means that up to 95% of the waste material created during the manufacturing of the tubes can be re-used; a great selling point for an environmentally conscious company.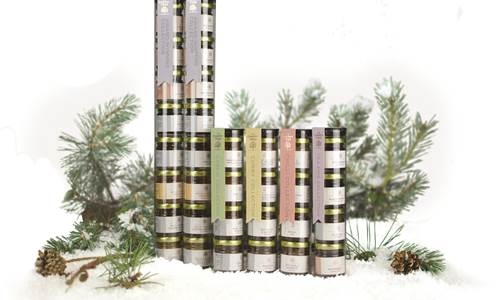 If you would like to speak with our VisiPak team, please don't hesitate to give them a call on 01634 662228 or click here to visit the VisiPak section of our website.
For further information on The Cherry Tree, click here to visit their site.