The following case study gives an in-depth look at how VisiPak packaging from Sinclair & Rush has been employed by alternative fashion brand Ed Hardy to promote their latest fragrance launch.
The Ed Hardy Brand produced two new fragrances in 2015, one for men and one for women, each with an incredibly unique visual characteristic, whereby the contents of the bottles both displayed two different coloured immiscible liquids, with the intention for them not to be mixed. This was designed as a fundamental selling point to help their product stand out from their competitors.
The 'Love Is' brand in its distinctive bottle (left); packaged inside a VisiPak Tube (centre) to clearly display the bottle design that the brand is now synonymous with. This is mirrored in the men's fragrance packaging design (right).
Historically, the brand typically used a brown printed craft tube to package their fragrances, but this approach would not work on this occasion, as the main USP the brand wanted to focus on was the outwardly visual aspect of the product. Therefore, it was decided that the company needed a different type of packaging, one that could showcase their brand's new product and highlight it in the best possible way, enabling it to stand out on the shelf amongst the competition.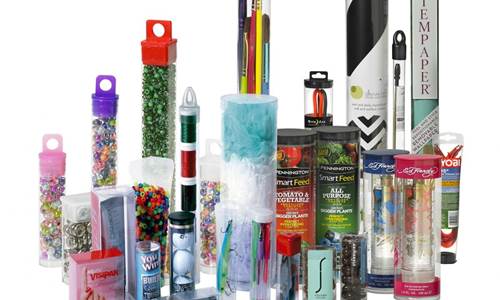 This is where we at Sinclair & Rush came into play; we were approached in regards to our range of Visipak Clear Plastic Tubing, as an obvious partner to provide a solution and help bring this visually unique product to market. Our Visipak Clear Tube has a natural flair for exhibiting the visual features of the product packaged within, whilst also providing vital protection.
Made in the UK, VisiPak Clear Extruded Tubing can be manufactured to any desired length as part of the production process (above). Along with a wide variety of label and closure options to choose from, the customer also has the choice to permanently seal or "Perma-seal" one of the tube ends, forming a non-removable base to provide added support for the product encased within.