Clear Tube Packaging Container from VisiPak Helps to Generate New Business
Resulting from a Google search for clear packaging, VisiPak was called upon to create new packaging for the Ranger Industries brand of Distress™ Marker. The critical issue at hand was the ability to display each marker, i.e., make all 49 colors visible, in a concise package. The previous provision for displaying the markers utilized a miniature shelf, which took up much space on the artist desk top, was difficult to transport and retailed for a very high price point.
Ranger Industries sampled the VisiPak three and a half inch diameter container with rigid bottoms and a hex plug. As you can see, each marker is carefully inserted so that the company logo faces out. Since this new tube package container was first released, an expansion pack of 12 new colors have been added to the brand. In consideration of owners of the original 49 Distress™ Marker sets, Ranger Industries offers the 12 new colors packed in their own tube packaging, with the same features. In addition, empty tubes can be purchased as a storage container for existing markers. Current plans are underway for a larger four inch diameter tube, which will hold all 61 colors.
When the clear tube packaging replaced the miniature shelf, the appeal was tremendous, not just for the art studios, but to the retail hobbyists and scrap bookers, as well. Changing to a clear tube container not only created a storage container that was capable of being transported with ease, but also produced a clear package with a greatly reduced price point. This allowed the product to become a perfect online retail item. As a result, after changing the shelf to a clear tube package design, the sales of these Distress™ Markers skyrocketed.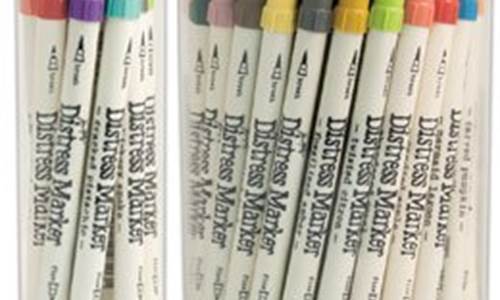 About Ranger Industries:
Ranger was founded in 1929 and originally manufactured an exclusive line of commercial ink products for the U.S. banking industry. In 1979, Ranger developed the first art stamp pads in unique, vibrant colors. Until 1998, Ranger¹s primary business was private label products for stamp manufacturers. Ranger then began marketing product lines of its own beginning with inks and eventually developing embossing powders. With a continuous focus on innovation, successful lines such as the Adirondack® and Distress™ family of products, Perfect Pearls™ pigment powders and mists, and Melt Art® products have become popular worldwide. For more information, visit Ranger Industries.